Tak se to nějak seběhlo, že jsem byl pro tentokrát určen jako ten kdo se postará o víkendový moučník.


Děti si vybraly tzv. Míša řezy. Pro kuchaře amatéra, který dosud, kromě sebe na slunci, upekl maximálně perník s Dr. Oetkerem podle návodu na prášku do perníku, poměrně složitý úkon. Samotný výrobek bych charakterizoval jako třísložkový (korpus, náplň a poleva), časově náročný produkt, zároveň však velice chutný cukrářský výrobek.
Ale pusťme se do díla. Hned první úkon na receptu zněl zajímavě "Oddělte bílky od žloutku.". To se lehce řekne, ale pro člověka chodícího po světě s "oběma levýma" úkol takřka nesplnitelný. Světe div se, povedlo se. Přece jen se mi ty chvíle strávené v kuchyni s babičkou a pozorování jejího kuchařského umění k něčemu hodily. Sice jsem zababral kde co včetně sebe, ale výsledkem byla zrna oddělena od plev a většina skořápek v dřezu. Ufff …
Dále to šlo poměrně hladce, nějaké to vážení (tentokrát se mi hodila praxe nabytá někdejší prací v laboratoři), míchání apod., zvládne snad opravdu každý a nějaký ten oblak kakaa vznášející se kuchyní při míchání ingrediencí tyčovým mixerem mě nevyvedl z míry.
Další v pořadí bylo "Umíchejte sníh." OK, proč to dělat ručně, když v předchozím kroku jsem si tak dobře rozuměl s mixérem, že ano? Jenom jsem vážně nepochopil proč na něm není jasně a výrazně napsáno "Postupujte od nejnižších rychlostí k nejvyšším.". Jak to má laik vědět. Být to tam, jistě by se bílkový snížek nepokoušel napravit to co v letošní zimě nezvládl jeho chladnější bratr, kuchyňská linka a blízké i vzdálené okolí, včetně mých brýlí, by nebylo řádně zasněženo. No nic teď už je mi naprosto jasné co obnáší kuchařský termín "vyšlehejte sníh."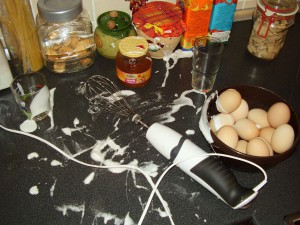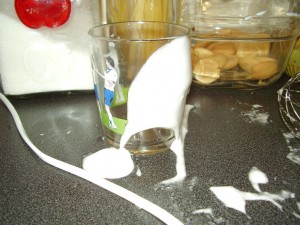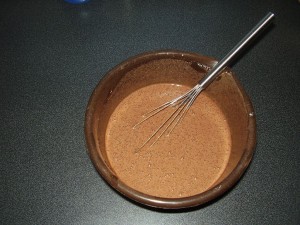 Takže těsto na korpus bychom měli úspěšně za sebou, dal jsem jej péct a přikročil k připravě náplně. Ta je tvořena tvarohem, Herou a rumem. Rum nebyl, vystačil jsem si s Fernetem. Ten byl samozřejmě podroben důkladné zkoušce zda není zkažený … a tak takhle fáze proběhla až překvapivě hladce a bez problémů. Náplň byla vskutku chutná, až jsem měl strach jestli ji bude vůbec dost …

Třetí složka byla opět snadná, rozpuštění čokolády na vaření ve vodní lázni se ukázalo jako velmi snadný úkol. Mimochodem ani čokoláda nebyla zkažená

Těsto se upeklo rychle, neuvěřitelné, nespálil jsem jej!!! Následovalo nalití náplně na těsto (samozřejmě až po vychladnutí) a závěrečné polití téměř hotového produktu čokoládou, spojené s průběžným ochutnáváním, bylo dílem okamžiku a nezbýval než výsledný produkt nechat vychladit.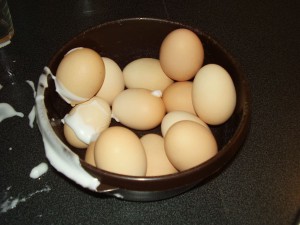 Závěrem nezbývá než říct, že až na malé extempore s neplánovaným zasněžením kuchyně, pominutím doby strávené přípravou (fakt nemůžu za to, že jsem si užíval téměř hodinu a půl) a s přivřením očí nad stavem kuchyně a mého oblečení po akci se mi tentokrát nedařilo zas až tak špatně a mlsné jazýčky dětí a manželky si přišly na své a prý to bylo dokonce i dobré … jeden by až nevěřil